Extendicare Assist Celebrates Fourth Year of Partnership with Alzheimer's Society of Canada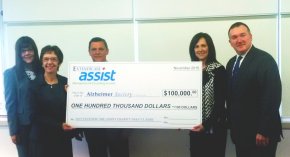 Tweet
In 2012, Extendicare Assist partnered with the Alzheimer's Society of Canada for a five-year commitment to support the "culture change" initiative. Our shared goal is to improve the quality of care and life for Canadians living with Alzheimer's disease and other dementias in long-term care homes. Extendicare Assist promised $50,000 a year for 5 years to assist the Alzheimer's Society in developing and implementing the culture change initiative.
"It's important to get to know who you're caring for…seeing the patient as a person is the ultimate goal," Stated Mimi Lowi-Young, CEO of ASC. "The team at Extendicare understands this and they have been very supportive as we work to identify best practices in Alzheimer's and dementia care."
A number of resources focusing on person-centered care have been created by ASC and are available to all providers including PC P.E.A.R.L.S., 7 key elements of person-centered care based on an exploratory qualitative study of 6 long-term care homes across Canada.
Despite the initial goal of $250,000 in five years, Extendicare Assist has already donated over $375,000 in just four years.
"This is a very important issue for us," said Tim Lukenda, President & CEO of Extendicare. "Over half of our residents have some form of dementia and we want to ensure that they are getting the care that they need to live the best lives they can."
Extendicare Assist promotes this initiative by holding an annual golf tournament. Our major sponsors for the 2015 tournament were Achieva (Platinum Sponsor), Medical Pharmacies (Silver Sponsor) and Arvan Rehab Group (Silver Sponsor).