Celebrating National Nursing Week: Meet Leona Utko, a Registered Nurse at Extendicare Vista Park Lodge in Winnipeg, Manitoba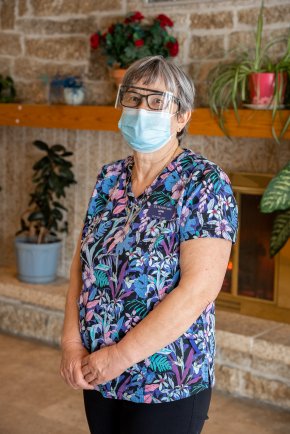 Tweet
It's #NationalNursingWeek. At Extendicare, we celebrate the incredible impact made by thousands of nurses within our care teams, who provide care to residents in our long-term care homes and to patients in their homes and communities.
National Nursing Week coincides with the birthday of Florence Nightingale –a nursing pioneer and inspiration to nurses around the globe.
Leona Utko, a registered nurse at Extendicare Vista Park Lodge, in Winnipeg, Manitoba, has dedicated her life to help the people we serve live better every day .
Leona's history at Extendicare Vista Park Lodge stretches back for 30 years. She first began caring for residents at the Winnipeg long-term care home as a Health Care Aide in 1992. She joined Extendicare shortly after moving to Canada from her native Poland, where she had worked as an emergency and surgical care nurse in hospitals. After completing additional studies to earn her nursing qualifications in Manitoba, she returned to Vista Park Lodge in 2001 as an RN. "I really like it. It's a small home. It's like a family. Everybody knows everybody. There are nice people working here."
While health care can be a challenging field, particularly over the past couple of years of the pandemic, Leona enjoys making a positive difference in the lives of residents and their families. "The appreciation I get from residents and families is rewarding … I concentrate on the residents and their specific needs. That's my world. Residents are the most important."