Celebrating Black History Month | Tameca's story: A lifetime of caring for seniors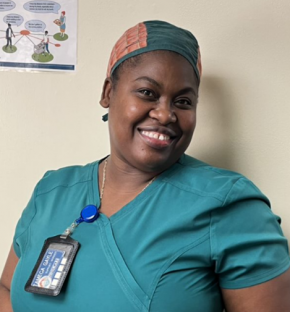 Tweet
As Black History Month comes to a close, Tameca, a Personal Support Worker at Extendicare Scarborough, shared how she grew up serving seniors in her home country of Jamaica. Some of her earliest memories include helping her mom deliver food to community elders.
A career in health care was a natural choice for Tameca, but when she moved to Canada, that career was put on pause.
"I spent my first five years here working in factories," Tameca recalls. "But the day my child started daycare, I started school."
After an eight-month retraining program, Tameca worked as an agency PSW before joining the care team at Extendicare Scarborough. It was an easy decision to return to her roots in caring for seniors.
Now the mother of sons aged eight and 16, Tameca acknowledges she and her boys are no strangers to racism. At work, it's not uncommon for residents to initially refuse a Black caregiver. "You have to put yourself in their shoes," she says. "You have to remember what's going on in their heads, where they came from. I speak up and I ask for help when I need to. It's not always easy but I have strong faith and determination."
Tameca's wish during Black History Month is simple: "Appreciate us. Work alongside us. We just want to be recognized for our contributions and accomplishments."
Celebrate Jamaica
Population – 2.8 million people
Official language – English, with Jamaican Creole inspired by West African, Spanish and French roots
National motto – 'Out of many, one people'
Comfort foods – Ackee and saltfish, roasted breadfruit, sweet potato pudding, and coconut drops (a mix of coconut, ginger, cinnamon, vanilla, salt, and sugar, served in a banana leaf)
Claim to fame – Birthplace of the world's fastest person, sprinter Usain Bolt