After nearly 30 years, Theresa Cholette's best advice is to let compassion be your guide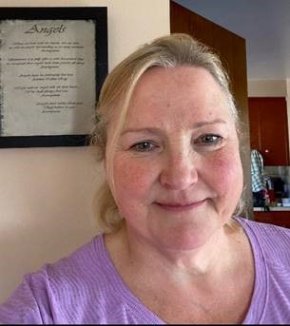 Tweet
It's been a "lifelong adventure" for Theresa Cholette, 53, to work in the health-care field. Celebrating her 10-year
anniversary this year as a Health Care Aide at Extendicare Eaux Claire in Edmonton, Alberta, Theresa says she's never looked back at her choice to be a caregiver.
"My sister and I helped to take care of our grandparents and learned how to give insulin injections when we were 10 and
12 years old," she says. "The nurse would show my grandma and my mom how to give an injection into an orange. It gave me purpose to help others and how good I felt helping people."
On Health Care Aide Day, Theresa is reflecting on her long career in health care that started more than 26 years ago as a candy striper when she was just 15-years-old at Melita Health Centre, a small-town southwestern Manitoba hospital.
She became a health care aide at 19-years-old and worked at a long-term care home in Brandon, Manitoba for three years before moving to Edmonton.
Theresa says her typical day starts at 6 a.m. and is spent greeting residents who are also early risers. She helps them get washed up, dressed and ready to start their day.
What Theresa finds the most rewarding about her job is the level of trust her residents place in
her to provide their care every day.
"With the people I have come across in my length of time here — I joined one month after Extendicare Eaux Claire opened — the people are genuine and trust that I will take care of them," she says. "They know I am someone that they can depend on."
Despite the challenging times during the pandemic, especially during lockdowns, Theresa took it upon herself to help residents connect with their loved ones as much as she could.
"When we couldn't let families come in, I would try to do the little extras and keep as much communication between them," she says. "I'd offer my phone number, especially at Christmas, to FaceTime, and letting them talk to their families as much as possible."
Theresa also says it wasn't easy for her personally and at times "heartbreaking" working during the pandemic.
"Mentally you're scared, and residents were very lonely and scared themselves," she says. "For some, their behaviours were off and you had to have more patience with them."
Patience, compassion and teamwork are three things that give Theresa the drive to do what she does every day.
"I've been doing this for a long time and never lost the compassion for someone else," she says. "I treat people the way I want to be treated. When it's my turn, I hope I have someone that has the compassion that I do for others. I am just as much here with residents as I am at home with my own family."